News of week 44/2012
ECOMAL opens his doors for everyone
More than 600 people from the Dreisamtal took the opportunity to look at our bew central warehouse at the Ottenstrasse in Kirchzarten, inaugurated after one year of construction in March 2012.
Every half-hour the ECOMAL staff gave ademonstration how the process is taking place in a modern logistics company.
Among the visitors at the "Open Day" were the Mayor Andreas Hall as well as Dietmar and Gabi Junginger from the Board of the Kirchzartener trade association.
In addition to information about our company by a picture show, there was plenty of entertainment fir the guests: Segway-course, race track with Carrera cars, goal wall shooting and childrens face painting (photos can be picked up at the Headquarters). Moreover we have also shown our LED products and in the "Weidmüller-Truck" was everything presented about controla nd sensor technology.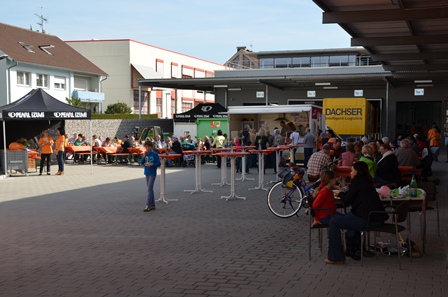 Great prizes were to win at the contest. The aim was to guess how many elelctronic components were in a glass cylinder. The solution was 62,600 pieces.
The 1st price (a dinner for two at the "Goldener Adler" in Oberried) went to Michael Offermann from Zarten.
The 2nd price ( avoucher of 50€ from the trade association) went to Alexander Klein from Kirchzarten.
The 3rd price (a backpack with drinking mug) went to Björn Fehrenbach from Konstanz.
The proceeds from the sales of food and beverage in the amount of 1.576,01€, which was doubled by ECOMAL, is spend to the "Dr. Gremmelsbacher Hilfswerk", that supports social organisations and projects ( e.g. Counsil for early learing, meeting location for disable and non-dosable persons, assited living etc. ) in Kirchzarten.